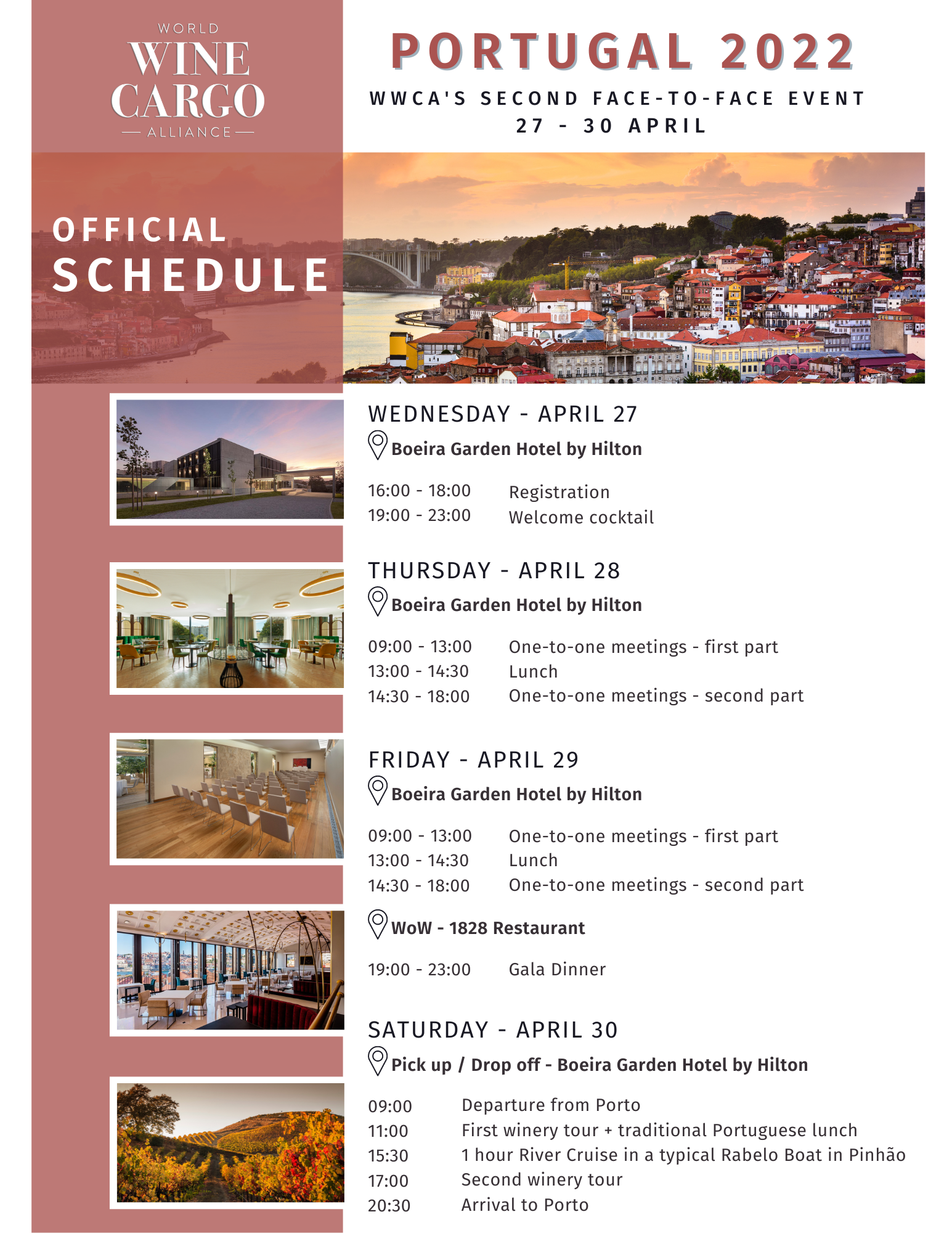 The World Wine Cargo Alliance hosted its second face-to-face event in the city of Porto, Portugal on April 27, 28, 29 and 30.
After 2 years of pandemic and 3 online events, the WWCA team finally managed to gather almost half of its members in a second face-to-face event that also gave the option of joining online to those members who due to restrictions related to COVID -19 in their countries, couldn't make it to Portugal.
The first night, the agents attended the welcome cocktail. This was the perfect opportunity to get to know each other and break the ice. It took place at the Hotel Boeira Garden by Hilton 5*.
For two days, we had the traditional one-to-one meetings, they were face-to-face among the 39 participants at the event´s headquarters, and they were joined by 10 companies and their teams in online mode.
On the night of the third day, we celebrated the gala dinner at the 1828 restaurant, in the WoW (World of Wine) venue. Good food, good wine and spectacular views of Porto were the stars of this night.
On the fourth and last day of the event, the participants had the opportunity to visit the wineries: Quinta do Val Moreira and Quinta do Seixo, in addition to enjoying a traditional Portuguese lunch and a boat ride on the Douro River.
Until the day of the event, the WWCA had a total of 97 companies in 59 countries, of this total 40 companies in 29 countries participated in the event.
The event sponsored by Cargo Club Forwarders and Cargo Wine in Spain, as well as Steamship in Portugal, was made possible thanks to the organization led by Montse Nomen, President of the World Wine Cargo Alliance and CEO of Cargo Club Forwarders working in collaboration with Alison Midory, Head of Communications and PR of the WWCA, with the support of Encarna Pastrana and Facundo Rueda in the financial area.
Also, thank the rest of the Cargo Club Forwarders and Cargo Wine team who actively participated during the event: Abdessalam Charia, Alex Krysiatetskyi, David Merci, Juliana Saraiva do Prado and Manel Sánchez Ulloa.